During the Regency era in England, eight close-knit siblings of the powerful Bridgerton family attempt to find love. Based on eight books by Julia Quinn.
Netflix turned the books into a streaming television period drama series. It is created by Chris Van Dusen, and produced by Shonda Rhimes as her first scripted show for Netflix.
---
Bridgerton S1 (2020)
For the novel the season is based on, see The Duke and I.
DAPHNE'S STORY
Can there be any greater challenge to London's Ambitious Mamas than an unmarried duke?—Lady Whistledown's Society Papers, April 1813
By all accounts, Simon Basset is on the verge of proposing to his best friend's sister—the lovely and almost-on-the-shelf—Daphne Bridgerton. But the two of them know the truth—it's all an elaborate ruse to keep Simon free from marriage-minded society mothers. And as for Daphne, surely she will attract some worthy suitors now that it seems a duke has declared her desirable.
But as Daphne waltzes across ballroom after ballroom with Simon, it's hard to remember that their courtship is a sham. Maybe it's his devilish smile, certainly it's the way his eyes seem to burn every time he looks at her . . . but somehow Daphne is falling for the dashing duke . . . for real!
And now she must do the impossible and convince the handsome rogue that their clever little scheme deserves a slight alteration, and that nothing makes quite as much sense as falling in love.
Main Cast S1
Adjoa Andoh as Lady Danbury, the sharp-tongued, insightful doyenne of London society
Lorraine Ashbourne as Mrs. Varley, the Featheringtons' housekeeper
Jonathan Bailey as Anthony, 9th Viscount Bridgerton, the eldest Bridgerton son and head of the family
Ruby Barker as Marina, Lady Crane (née Thompson) (S1; guest S2), a Featherington cousin from a family of rural gentry
Sabrina Bartlett as Siena Rosso, an opera singer and Anthony's former lover
Harriet Cains as Philippa Finch (née Featherington), the middle Featherington daughter
Bessie Carter as Prudence Featherington, the eldest Featherington daughter
Nicola Coughlan as Penelope Featherington, the youngest Featherington daughter and close friend of Eloise Bridgerton, and the real Lady Whistledown
Phoebe Dynevor as Daphne, Duchess of Hastings (née Bridgerton), the fourth Bridgerton child and eldest daughter
Ruth Gemmell as Violet, Dowager Viscountess Bridgerton, mother of the Bridgerton children
Florence Hunt as Hyacinth, the eighth and youngest Bridgerton child
Martins Imhangbe as Will Mondrich (S2; recurring S1), a retired boxer and confidant of the Duke of Hastings
Claudia Jessie as Eloise, the fifth Bridgerton child and second daughter
Ben Miller as Archibald, Baron Featherington, the patriarch of the Featherington family
Emma Naomi as Alice Mondrich, Will's wife
Luke Newton as Colin Bridgerton, the third Bridgerton son
Regé-Jean Page as Simon, Duke of Hastings, one of London's most eligible bachelors
Golda Rosheuvel as Queen Charlotte
Ruby Stokes as Francesca Bridgerton, the sixth Bridgerton child and third daughter
Luke Thompson as Benedict Bridgerton, the second Bridgerton son and an artist
Will Tilston as Gregory Bridgerton, the seventh Bridgerton child and youngest son
Polly Walker as Portia, Dowager Baroness Featherington, the matriarch of the Featherington family
Julie Andrews as the voice of Lady Whistledown, the author of a scandalous society newsletter
---
Bridgerton S2 (2022)
For the novel the season is based on, see The Viscount Who Loved Me.
ANTHONY'S STORY
This time the gossip columnists have it wrong. London's most elusive bachelor Anthony Bridgerton hasn't just decided to marry—he's even chosen a wife! The only obstacle is his intended's older sister, Kate Sheffield—the most meddlesome woman ever to grace a London ballroom.
The spirited schemer is driving Anthony mad with her determination to stop the betrothal, but when he closes his eyes at night, Kate's the woman haunting his increasingly erotic dreams…
Contrary to popular belief, Kate is quite sure that reformed rakes do not make the best husbands—and Anthony Bridgerton is the most wicked rogue of them all. Kate's determined to protect her sister—but she fears her own heart is vulnerable. And when Anthony's lips touch hers, she's suddenly afraid she might not be able to resist the reprehensible rake herself…
Additional Cast S2

Simone Ashley as Kathani, Viscountess Bridgerton (née Sharma)
Charithra Chandran as Edwina Sharma
Shelley Conn as Lady Mary Sharma (née Sheffield)
Rupert Young as Jack Featherington, Baron Featherington
Martins Imhangbe as Will Mondrich (S2; recurring S1), a retired boxer and confidant of the Duke of Hastings; Gentleman's club owner
Emma Naomi as Alice Mondrich, Will's wife
Calam Lynch as Theo Sharpe, a printer's apprentice at the printing shop where Lady Whistledown publishes her work who is Eloise's confidante and friend
---
'Bridgerton: The Official Podcast' Returns With Season Two!
Gabrielle Collins is back in the hosting chair, ready to bring you behind-the-scenes goodies along with cast and crew interviews to satiate your "Bridgerton" needs.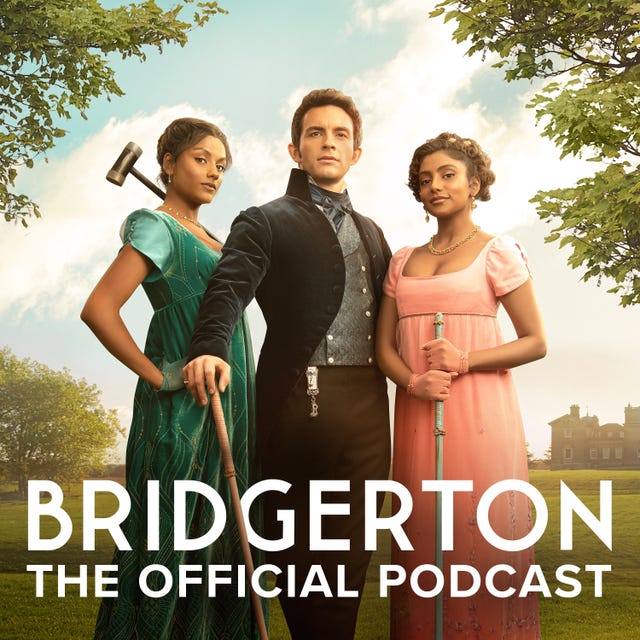 Season 1 of Bridgerton: The Official Podcast
This essential companion podcast to Shondaland's hit Netflix series brought us plenty of Bridgerton breakdowns courtesy of the series' cast and creatives such as Nicola Coughlan (Penelope Featherington) and Claudia Jessie (Eloise Bridgerton) — also known as the beloved Peneloise — Golda Rosheuvel (Queen Charlotte, who's getting her own spin-off!) together with the formidable Adjoa Andoh (Lady Danbury), and executive producers Shonda Rhimes and Betsy Beers in an incisive interview about what it took to bring Julia Quinn's book series to life. And we'd be remiss to not mention the can't-miss season-one interviews with Lizzy Talbot, the intimacy coordinator responsible for those hot-and-heavy sex scenes, as well as costume designers Ellen Mirojnick and John Glaser.
Season 2 of Bridgerton: The Official Podcast
Follows suit, featuring this season's notable names giving us all the behind-the-scenes deets from the new season. Listeners will hear in-depth interviews with Simone Ashley (Kate Sharma) and Jonathan Bailey (Anthony Bridgerton), Charithra Chandran (Edwina Sharma), and Coughlan, who returns to kick off the series. Best of all, Bridgerton author Julia Quinn makes an appearance, providing even more insight into creating the lush Regency-era England backdrop that would become the on-screen world of Shondaland's Bridgerton Netflix series.
For all Blacklanderz®Bridgerton posts.
Disclaimer: We hold no rights to any of the pictures.  No copyright infringement intended.