Dresbach talks Season 1 Easter eggs, sending Brianna through the stones, and why this is her last season with the show.
Over six years and four seasons, costume designer Terry Dresbach has turned Outlander, one of the hardest-to-define shows on television (a romance-epic that spans two centuries, multiple continents, and dozens of history book-altering events, for starters) into one of the most beautifully-costumed, as well. [Emphasis is mine. ~ Vida]
Dresbach was a fan of the Diana Gabaldon-penned Outlander series years before her husband, executive producer Ronald D. Moore, optioned the rights to the TV show, and in 2012, she found herself tasked with helping translate the characters in her favorite books to the screen. Her costumes have taken time-traveling heroine Claire Fraser (Caitriona Balfe) from 1) World War II to the 2) 18th-century Scottish Highlands and the 3) French court of Louis XV, 4) back to Scotland for the Jacobite Rising of 1745, to 5) mid-20th century Boston, and finally, to 6) pre-Revolutionary America for Season 4—Dresbach's final with the show. She says she never planned [to] go so far with the series, but ultimately, "I had to get them to America."
[Yeah, I counted them all. Name me another costume designer (not including any of her crew) who has brilliantly done all of this? I'll wait. ~ Vida]
Dresbach, who created Season 4's wardrobe alongside co-costume designer Nina Ayres, brings a fan's eye to every button, stitch, and print, and her work has garnered a devoted fan base within the show's already-feverish fandom. On her Twitter, @OutlanderCostum, Dresbach breaks down individual costumes into their essential elements and explains her rationale for each decision. Her timeline is a treasure chest of information for Outlander and costume history addicts alike, and her more than 41,000 followers hang onto her every word.
I was talking to a woman the other day who's watched the show 200 times. When you're talking to them, they have questions that deserve to be answered. There has to be a justification. [Fans] expect more because they're engaged in the process in a different way. ~ Terry Dresbach
[I can certainly attest to this. I've never been this involved with a show – the costumes, set designs etc. – as I am with Outlander. I have loved all of Terry's choices and designs, really admire them and appreciate how open she is with her creations and her interaction with the fans! I don't any other designer who does this. So, thank you Terry for all that you've done and continue to do. ~ Vida.]
---
Claire and Jamie

They're characters we are so familiar with. At this point, we know they're not hiding, they're not disguising themselves. They're not in France pretending to be aristocrats. They are truly themselves in a world they're creating. That was key to me in all of their costumes this season.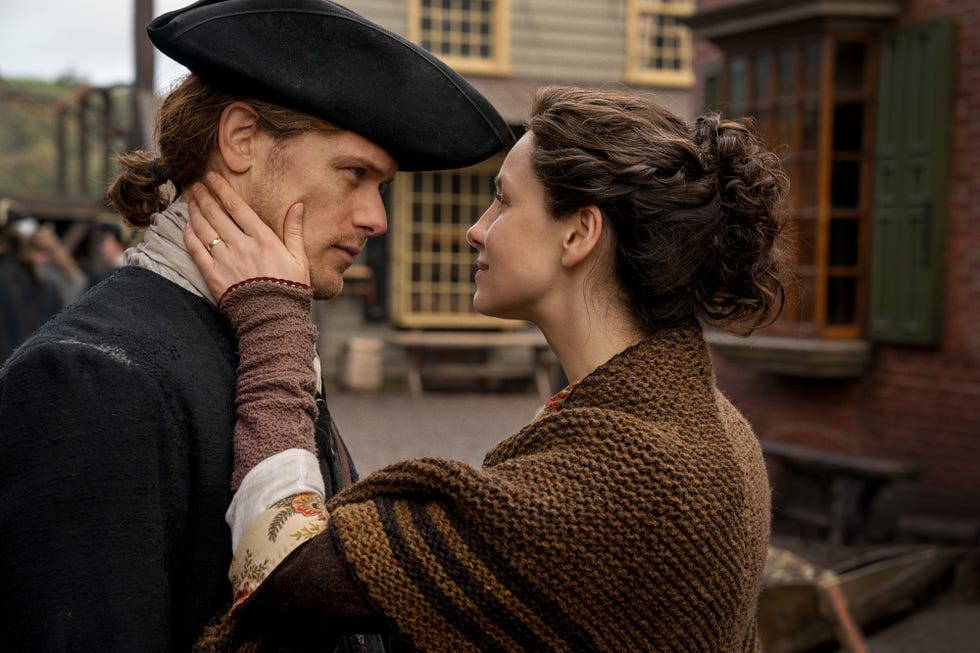 For Claire, in particular, I wanted to go back to the beginning. Her costumes here are very much like they were in Scotland. In Season 1, she wears that green plaid gown and she's got that green plaid shawl. For Season 4, we had to make her a new shawl. It can't be the same colors, but it has to feel like that shawl from Season 1.
Pattern Play
You could change out the fabrics and you'd be back in Scotland. We did want to hit the new world, so we started bringing in patterns and flowers. I remember Cait at one point said to me, 'This is feeling a little Holly Hobbie." I'm like, "Yes, that's the whole point!' She said she didn't feel like it was Claire. Then we found this fabric, which was a little more sophisticated, that we loved.
---
Phaedre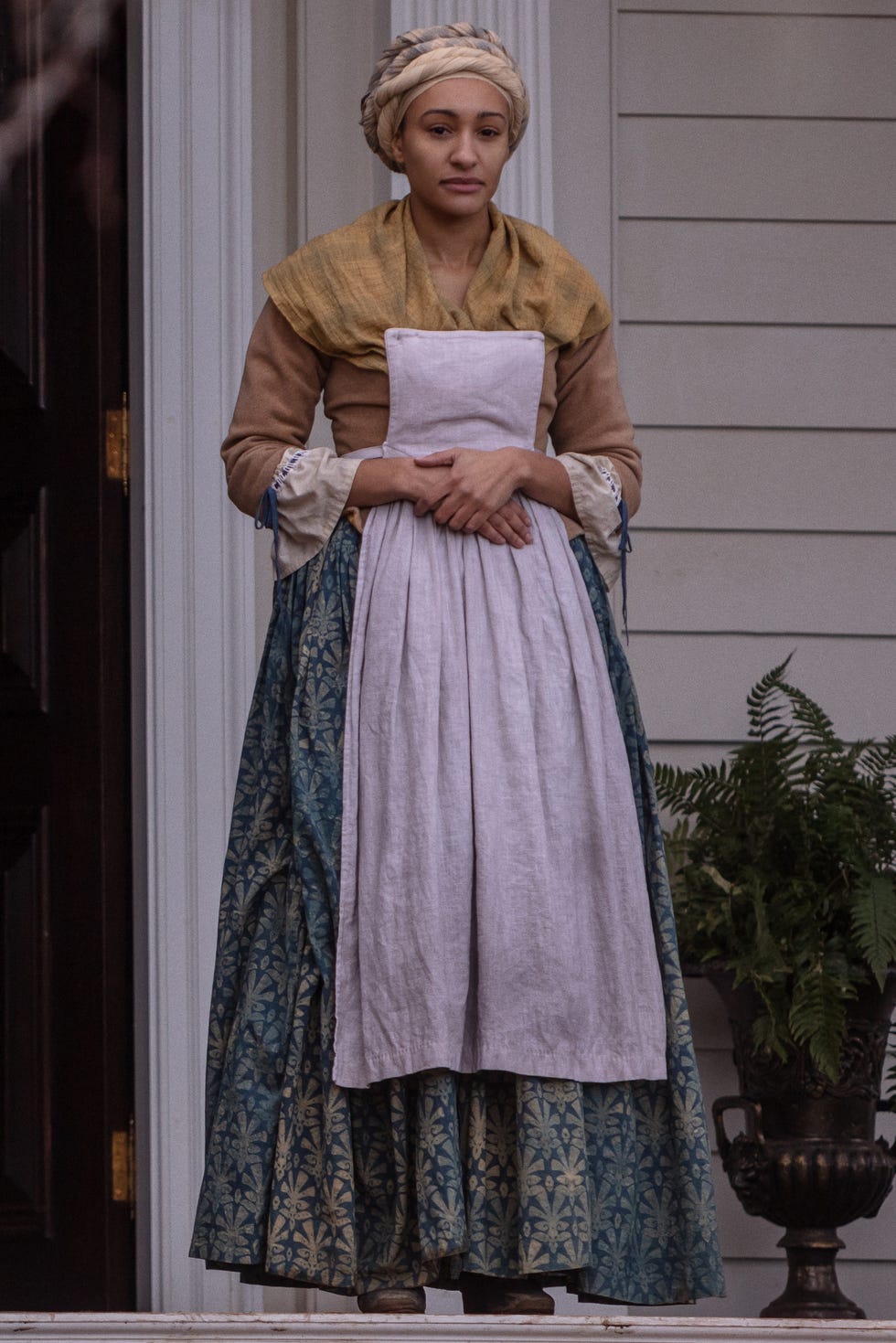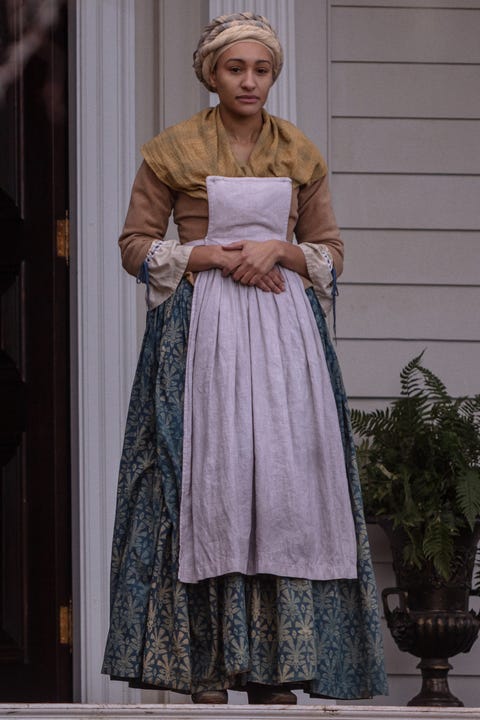 With Claire and Brianna and Geillis, we tried to find ways they would hold onto their identity through their clothing—our research showed that's what any people do. It was no different for the slaves. You could draw direct lines in the research to what they did in Africa and then what they [did in the States].
It was a fine line they had to dance, because one of the key points about genocide is it's cultural genocide too—[the oppressors] remove anything that connects [the oppressed group] to the old place because that might represent too much independence. It was important for us to honor and respect each person's story and each costume story. We brought in the indigos and the little bits of batik, just a little bit of pattern, and how the clothes are worn.
Disclaimer: We hold no rights to any of the pictures. No copyright infringement intended.