The Prince's Bride by J. J. McAvoy
I came across J. J. McAvoy's The Prince's Bride on Instagram and was impressed by the quality of the book cover. However, just from its title, it appeared at first to occupy a familiar territory, the common trope. The tale of a prince who comes to American seeking . . . [fill in the blank]. A young woman who always dreamed of marrying a prince. A young woman who falls in love with a man and later discovers he is a prince.
I decided to peruse her different social media accounts and quickly became drawn into the book for a few reasons. One, the individual the prince's family selects for him to marry is a Black American heiress – representation and diversity matters. Two, the fact that the heiress is being courted and why is a different plot. She holds all the cards. Last, the energy and effort put into promoting the book truly piqued my interest; I have never seen anything like it. More on that later.
He's Prince Galahad Fitzhugh Cornelius Edgar of Ersovia!"
Good for him. I don't care," Odette, The Coldhearted.
McAvoy's story is not the monotonous fairytale romance. Quite the contrary. Her story is about a prince, Galahad (Gale), who must take on a task he has never faced before – chase after a woman. We also meet the accomplished Black American heiress he pursues. Odette is a genuine, though annoying at times, person who is unlike any other bridal selection I have seen in a royal romance – book or movie. Black. American. Heiress. Furthermore, the storyline is succinctly explained in the synopsis.
---
He is a spoiled playboy prince whose family is in desperate need of money. She's an American heiress who can only get her inheritance through marriage. According to their families they are a perfect match. According to each other, arranged marriages have no place in modern times and this could not possibly work. But Prince Galahad "Gale" of Ersovia is bound by duty to obey the crown anyway. Odette Wyntor doesn't give a damn, she doesn't want to get married. Can he change her mind? Can she even handle what it means to be royal, if he did?
---
Knowing they will meet upfront, and why, made for a fascinating journey. It entails discovering the inner workings of the main characters, what happens once they meet, the secondary and tertiary characters, and if the above question, "Would he change her mind?" is answered.
I was blown away by the realism of the characters, the unique quality of the storyline and the structure and flow of the story. The story is told from both Odette's and Gale's perspectives. When they have no idea what the other is thinking or feeling, the reader does. This allows the reader to become more invested in their relationship and more connected with them as their situation unfolds each day. Though the characters are not perfect and have flaws, they are well-developed and complex. The story also contains realistic conflicts (e.g., family dynamics) and several plot points that show the characters' emotional journey and growth.
There were times I was shocked or surprised, in a good way, when something happened; but, I also laughed and cried during this whirlwind romance. As McAvoy admits, it is a slow burn in the very beginning; however when it picks up, you are in for a treat. You will root for, as well as fall in love with, Gale and Odette and quickly turn the page to see . . . What the hell is going to happen next?
It is an authentic, modern-day story with twists and turns that will have you eagerly waiting for Book 2 to find out what Odette will do.  "Will she stay, or will she run?"
Marketing of The Prince's Bride
As I previously mentioned, I have never seen anyone so cleverly and creatively market their book in the way McAvoy does. Finding models who resemble the characters, the realness of the pictures and portraits, and the ideas for the type of pictures are in a league of their own. Just compare her marketing collateral with any other author's materials.
Her materials are of such high quality and so brilliant, I started to think she had already optioned it for a movie. After reading the book, as I mentioned to her, it certainly SHOULD be a movie!
Since the below is already in the public domain, I do not think she would mind me sharing here.
~ Vida
---
---
Odette, didn't you hear me? A prince!
He's Prince Galahad Fitzhugh Cornelius Edgar of Ersovia!"
Good for him. I don't care," Odette, The Coldhearted.
---
"Wait." I paused. She refused? Outright? She nodded. Yes.
You told her who I was? That you are a prince.
Her exact words were 'Good for him. I don't care.'
---
Still frozen in place, I could only stare. But I guess I was staring or frozen for too long because he finally looked to his left, and when he saw me, he jumped slightly. We just stood there, staring at each other. I knew that face. She had only just shown me that face. There in my living room, dressed as Prince Charming, was, in fact, a real freaking prince.
---
How exactly am I supposed to approach you?
I told you it would not be easy.
Yes, but you like me. You are just not giving me a chance.
Who said I liked you?
Oh, so you go on dinner dates with men, accept the men's flowers,
reject those men, and then invite men for dinner again
when you don't like them?
---
I just need to get married for the money,
but it doesn't need to be a prince.
But who's better than a prince?

A cowboy.
His eyebrow rose, and he placed his hand onto his chest.
You are trampling all over my pride tonight, Cinderella.
---
McAvoy even commissioned musical compositions for her book. Who does that?
---
The Prince's Bride (Book 1) – October 29, 2020. Preorder
---
The Prince's Bride (Book 2) – November 27, 2020. Preorder.
Odette Wyntor has a choice.
Stay or Run.
Royalty is not for the weak of heart.
---
This is a copy of the paperback and the back of it.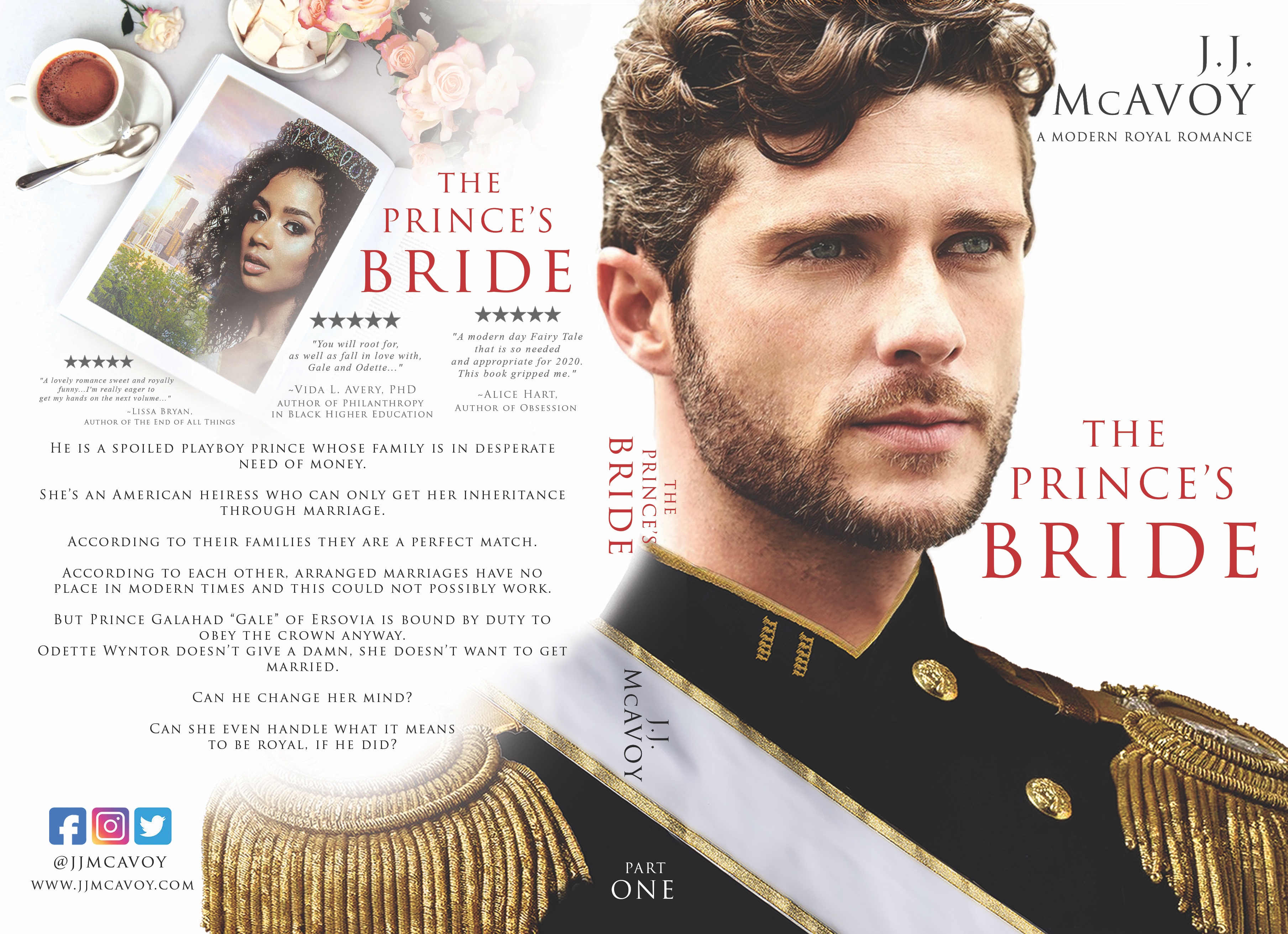 ---
J.J. McAvoy was born in Montreal, Canada and graduated from Carleton University in 2016 with an Honours degree in Humanities.

She is the oldest of three and has loved writing for years. She is inspired by everything from Shakespearean tragedies to current culture.
She hopes her novels push boundaries and allow readers to look at the world from another perspective.
You can find her books on Amazon.
Follow her on Social Media: Twitter | Instagram | Facebook.
Disclaimer: We hold no rights to any of the pictures. No copyright infringement intended.