Wow, this is going to be fantastic!! ~ V
---
Alfre Woodard will star as civil rights and voting rights activist Fannie Lou Hamer in a forthcoming limited series for ABC Studios, Variety has learned exclusively.
Woodard is executive producing along with Carl Beverly, Sarah Timbermann, Roderick Spencer and Harry Belafonte, while Gina Belafonte serves as a producer.
Hamer rose from sharecropping in the Mississippi Delta to become a driving force in the voting rights movement, a prominent voice for civil rights and women's rights and a leader in the push for economic opportunity for African Americans. She was the co-founder and vice-chair of the Freedom Democratic Party and organized Mississippi's Freedom Summer in 1964 along with the Student Nonviolent Coordinating Committee. She continued her civil rights work until she died in 1977, and she was posthumously inducted into the National Women's Hall of Fame in 1993.
---
Fannie Lou Hamer (1917-1977)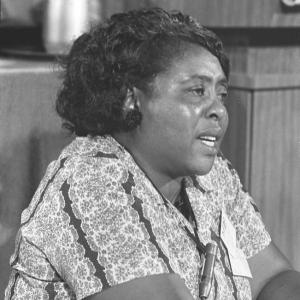 Fannie Lou Townsend Hamer rose from humble beginnings in the Mississippi Delta to become one of the most important, passionate, and powerful voices of the civil and voting rights movements and a leader in the efforts for greater economic opportunities for African Americans.
Hamer was born on October 6, 1917 in Montgomery County, Mississippi, the 20th and last child of sharecroppers Lou Ella and James Townsend. She grew up in poverty, and at age six Hamer joined her family picking cotton. By age 12, she left school to work. In 1944, she married Perry Hamer and the couple toiled on the Mississippi plantation owned by B.D. Marlowe until 1962. Because Hamer was the only worker who could read and write, she also served as plantation timekeeper.
In 1961, Hamer received a hysterectomy by a white doctor without her consent while undergoing surgery to remove a uterine tumor. Such forced sterilization of Black women, as a way to reduce the Black population, was so widespread it was dubbed a "Mississippi appendectomy." Unable to have children of their own, the Hamers adopted two daughters.
Disclaimer: We hold no rights to any of the pictures. No copyright infringement intended.