Some of these surprised me; some did not! Any surprise(s) for you? ~ V
---
This is an excerpt from TV Guide Magazine's Outlander Forever Special Collector's Issue, which is available for international pre-order online at OutlanderForever.com and available nationwide on newsstands now.
Stars Sam Heughan and Caitriona Balfe, plus author of the Outlander books Diana Gabaldon, share moments from the series — marriage! death! reunions! — that they just can't forget.
---
CAITRIONA'S PICK: Season 1, Episode 1
The Episode: In the series' 2014 pilot,"Sassenach," headstrong World War II nurse Claire Randall (Caitriona Balfe) mysteriously travels through time to 1743, where she meets Scottish Highlander Jamie Fraser (Sam Heughan).
Claire was discovering her new world, as was I. For something to become a success, you need a certain alchemy, a certain magic, and it was apparent from day one on Episode 1 that we were lucky enough to have that on this show.
---
DIANA'S PICK: Season 1, Episode 7
The Episode: Told in a series of flashbacks chronicling the big day, "The Wedding" sees Jamie and Claire tie the knot, so that Claire may have the safety of being a legal Scot. After reciting their vows, they begin to fall in love over drinks and storytelling and, eventually, take each other to bed (three times!).
It's really hard to choose among Season 1's episodes…but the wedding because, well, that's obvious.
---
SAM'S PICK: Season 1, Episode 16
The Episode: Take "favorite" with a grain of salt here. "To Ransom a Man's Soul" is a vicious hour that shows the brutal rape and abuse of Jamie (above, with Duncan Lacroix's Murtagh) at the hands of redcoat captain Jonathan "Black Jack" Randall (Tobias Menzies) and his eventual rescue.
Episode 16 is one of the most challenging things I've ever filmed. Jamie's torture was extreme and really draining to film for cast and crew, not only for the viewer to watch!
---
CAITRIONA'S PICK: Season 2, Episode 7
The Episode: In "Faith," Claire delivers stillborn daughter Faith, almost dies after giving birth, and asks King Louis XV (Lionel Lingelser) to pardon Jamie for dueling. He does…because she sleeps with him.
It was such a beautifully written script by [exec producer] Toni Graphia, and though it was a really painful and tough episode for Claire, as an actor it really pushed me and made me find new depths in my work.
---
DIANA'S PICK: Season 2, Episode 10
The Episode: Warrior Jamie charges into "Prestonpans" knowing he and the Jacobites will win the historic battle. But not everyone makes it out alive (RIP Stephen Walters' goofy Angus Mhor), and the bloodshed has only just begun.
It's such a wonderful picture of what makes men fascinating and admirable and women strong and admirable, against a background of danger and death. What can I say? I like blood.
---
SAM'S PICK: Season 2, Episode 13
The Episode: The Battle of Culloden nears in the finale, "Dragonfly in Amber." As Jamie prepares for the confrontation, in which he believes he'll die, he and Claire say a raw farewell at the standing stones of Craigh Na Dun before she returns to the 20th century.
Time has run out for Jamie and Claire. It was great to collaborate with Caitriona and find the truth and pain of their parting ways — a magical moment in an incredible location.
---
SAM'S PICK: Season 3, Episode 1
The Episode: Viewers finally saw the savage fighting at Culloden in "The Battle Joined" and learned just how Jamie fought and survived — and slew his longtime tormentor Black Jack.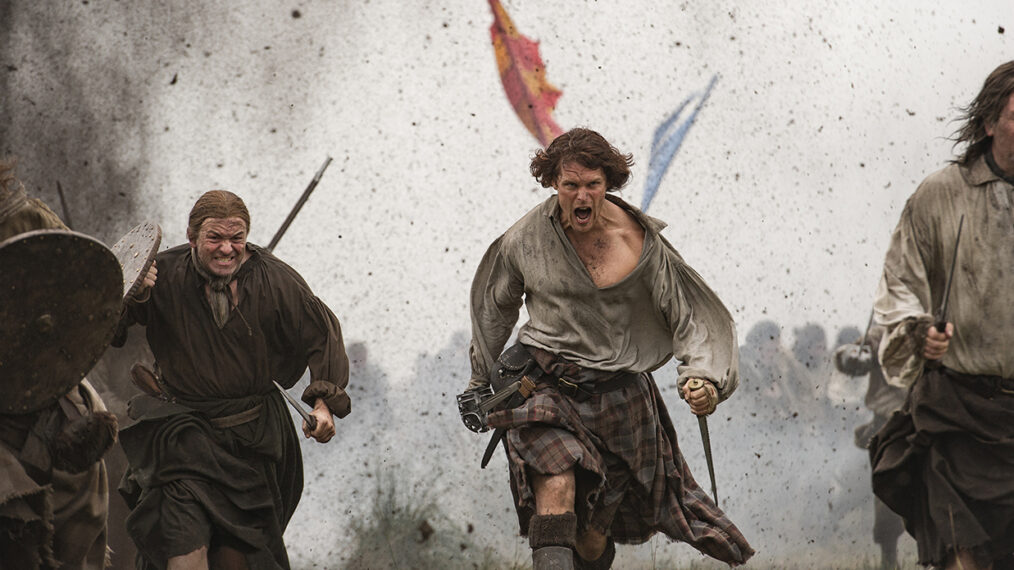 The Battle of Culloden (and the aftermath) was very touching—a final goodbye to our Scottish clan characters, and it also really marked the end of clan culture and the Highland way of life.
---
CAITRIONA'S PICK: Season 3, Episode 3
The Episode: "All Debts Paid" explores the mostly loveless marriage of Claire and Frank (Balfe and Menzies) in the 1950s and '60s as they raise Brianna, the daughter Claire shares with Jamie. The tension comes to a head when Claire meets Frank's mistress, Sandy (Sarah MacRae).

We all called it our Who's Afraid of Virginia Woolf? episode. The bitterness and rage that built up between Frank and Claire finally spilled over, and all their cards were laid bare.
---
DIANA'S PICK: Season 3, Episode 4
The Episode: In "Of Lost Things," we see Jamie and Claire continue on, separately. Jamie serves as a groomsman at Helwater and secretly fathers a son. Claire, meanwhile, searches for proof of Jamie's life after Culloden.
'Of Lost Things' is dramatic, intense, heartbreaking and so beautifully engineered by [exec producer] Toni Graphia, with Claire's and Jamie's stories of love and loss happening in counterpoint, 200 years apart.
---
CAITRIONA'S PICK: Season 4, Episode 2
The Episode: At Aunt Jocasta's (Maria Doyle Kennedy, above, with Colin McFarlane) plantation, Claire hopes to save slave Rufus (Jerome Holder).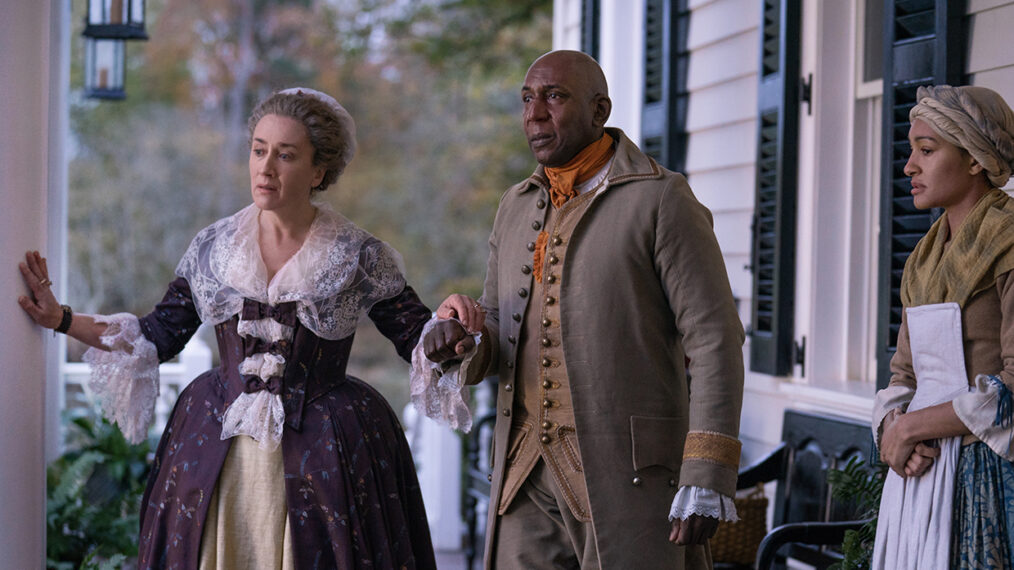 I like when we address the real issues of the time, something we don't always get to do. In 'Do No Harm,' Claire is faced with the ugly truth of the treatment of the Black population [in the New World] at the time and feels powerless and somewhat complicit.
---
SAM'S PICK: Season 4, Episode 9
The Episode: After a difficult journey, a now-adult Brianna (Sophie Skelton) locates her parents in the past. Her first meeting with her father Jamie in "The Birds & the Bees" goes down in Outlander history as one of the drama's sweetest scenes.
Jamie and Brianna finally meeting was such an iconic moment, and Sophie is so fun to work with. We laughed a lot while hunting bees, and this episode is where we see father and daughter really bond.
---
SAM & DIANA'S PICK: Season 5, Episode 7
The Episode: Aye, the Regulator Rebellion takes a heartbreaking turn for the Frasers in "The Ballad of Roger Mac" as Jamie's godfather Murtagh dies in battle. Sam says "The stakes are so high, and it was really difficult to say goodbye to our brilliant cast member Duncan."
Amazing acting from absolutely everyone.
---
CAITRIONA'S PICK: Season 5, Episode 12
The Episode: Claire has been taken captive by Fraser family enemies the Browns in "Never My Love." Mentally, she escapes into an imagined 1960s–1770s mashup with Jamie and their loved ones.
It pushed us all to find new ways of telling this story, and I loved the whole '60s dreamlike element. To go within Claire's mind during the attack felt like an empowering way of telling her story, and I'm proud of the work we did on that episode.
Outlander, Season 6 Premiere, Sunday, March 6, 9/8c, Starz
Disclaimer: We hold no rights to any of the pictures.  No copyright infringement intended.