Blacklanderz Convos! –
Outlander S2 Epi4 – La Dame Blanche (Title Analysis)

All book readers know where we are in the story. Although Claire, Jamie and Murtagh are in Paris to thwart the Bonnie Prince's desire to form a rebellion, wage a war – he thinks he will win – and be anointed on the throne, there are other things that will blindside them along the way.
Starz/TV Synopsis
Claire and Jamie throw an elaborate dinner party intended to derail investors in Prince Charles' war effort. Meanwhile, Claire's revelation that Jack Randall is alive sparks Jamie in an unexpected way as he and Claire struggle to regain their physical intimacy.
La Dame Blanche
La Dame Blanche is an opéra comique in three acts by the French composer François-Adrien Boieldieu, but in the Outlander world it means 'The White Lady' – a sorceress, wise woman, healer. We decided to include what the actors had to say about this episode rather than do a title analysis.
Claire 
They are continuing the event from last week when Claire discovers Aconitum Napellus-Monkshood, a poison, after seeing Comte St. Germain at Master Raymond's apothecary. And, Comte St. Germain is a guest at the dinner party!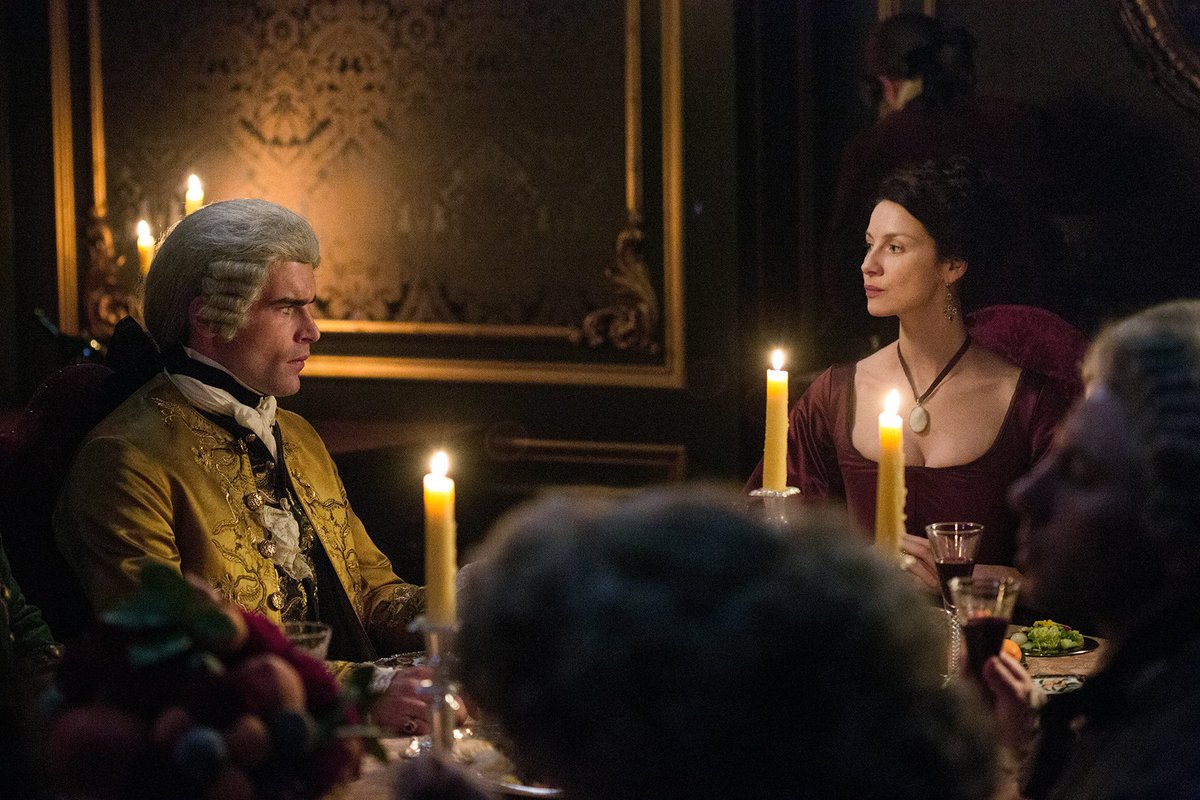 So when this happens, first of all she goes to Master Raymond who she considered her friend and interrogates him over whether he had any part in it. But she has her suspicions that it's the Comte St. Germain. She starts to realize that there's a lot of danger in Paris and that she needs to maybe be more careful.
~ Caitriona Balfe via The Hollywood Reporter
---
She does not look too pleased here!
So, what happens to the baby?
Will she figure it out who poisoned her in this episode?
---
Black Jack
With the Duke of Sandringham being a guest of honor of the dinner party, it is highly likely that his new secretary, Alex Randall, will also be there. Thus, Jamie finding out Black Jack is alive.
How will Jamie react to the news?
Will Claire be relieved she no longer has to keep this secret from Jamie?
---
This scene will be interesting too.
---
Jamie
Jamie is not in a healthy place when they begin this part of their journey. And France and the mission they are on there — trying to infiltrate the Jacobite rebellion and stop the battle of Culloden and a race of people being wiped out — has a lot of consequences on their relationship, and love may not be strong enough to see them through. They're not comfortable in this world.
~Sam Heughan via Yahoo
After seeing the video preview of this episode, Jamie's sword fighting/training with Murtagh has paid off. He takes down not one person . . .
. . . at this dinner party, but, two!!
It will be interesting to see how they adapt this section of the book.
---
As with all the episodes in Paris, we are most certainly eager to see more fabulous costumes and set designs! Below pictures via Vanity Fair.
The only question here is . . . why is Master Raymond in the same outfit?
~ Vida
Tell us what you are looking forward to seeing in this next episode?
Sound off in the comments.